Grayscale Investments has temporarily suspended the acceptance of deposits in GBTC due to the fall in the share price by 15% below the BTC rate.

March 11, 2021 | AtoZ Markets – Grayscale Investments has suspended investment in the Grayscale Bitcoin Trust (GBTC) and Digital Large Cap Fund (GDLC). This is stated on the asset manager's product page. The reason could be due to the fall in the share price by 15% below the BTC price.
Grayscale periodically suspends accepting investments in its funds, but at the moment, both trusts of the company offering investments in bitcoin have been closed. And, most likely, this is due to the fall in the share price of funds below the price of the assets they contain.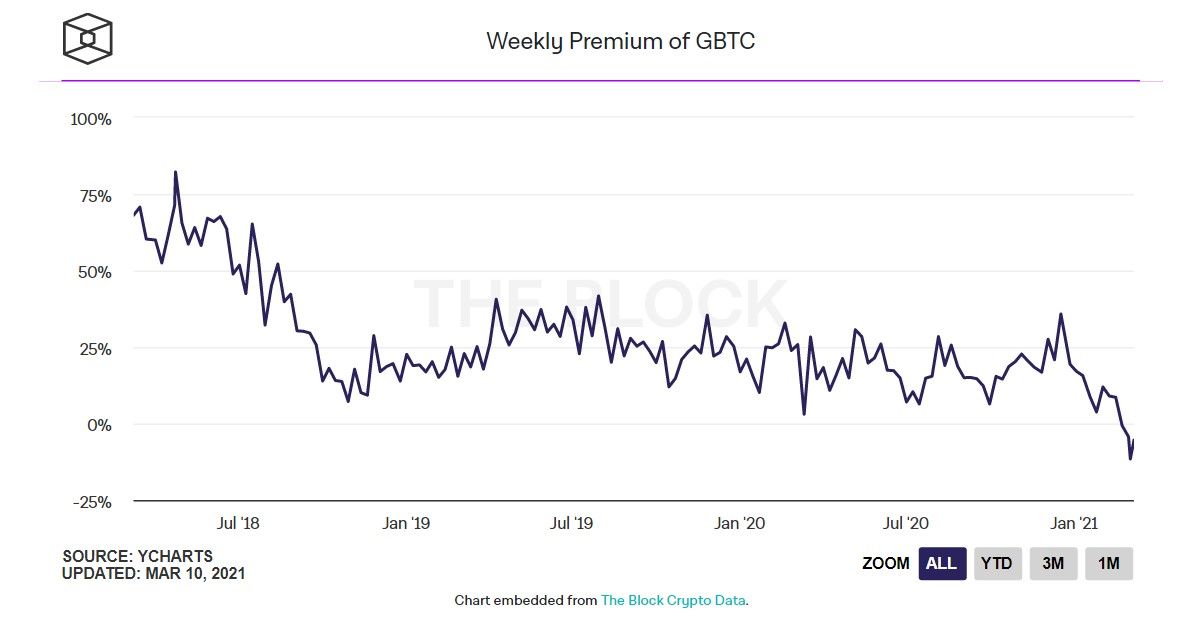 Usually GBTC shares are traded significantly higher than the bitcoin rate, but in recent weeks this "premium" has gradually decreased, and at the end of February the share price was completely below the BTC rate.
Purchasing shares of Grayscale funds directly from the company is only available to institutional investors. However, after 6 months from the date of purchase, investors can sell shares on the secondary market. And it looks like some big GBTC shareholder is getting rid of the asset.
The recently unlocked were 36,000 GBTC shares bought back by investors in August 2020. At the current exchange rate, their value is about $2 billion. If the holders of these shares put them up for sale on the secondary market, this could additionally affect the price of GBTC shares.
Many analysts attribute the decline in GBTC shares to the recent approval by Canadian regulators of several exchange-traded funds (ETFs) for bitcoin. Institutional investors are either planning to move funds from Grayscale trusts to more regulated Canadian ETFs, or expect similar products to launch in the US soon. Grayscale's posting of several ETF job opportunities is also hinting at such an opportunity .
Grayscale had previously suspended investments in six of its funds, but subsequently resumed accepting deposits.
Think we missed something? Let us know in the comment section below.