Cybersecurity firm Kaspersky Lab has warned Discord users that crypto scammers are stealing cryptocurrency and personal data under the guise of distributing BTC or ETH.
February 5, 2021 | AtoZ Markets – According to an article in the blog of the cybersecurity company Kaspersky Lab, cryptocurrency scammers have targeted users of the popular chat platform Discord, offering them free BTC or ETH on a fake cryptocurrency exchange.
Kaspersky Lab warns Discord users of cryptocurrency scam
Fraudsters are sending messages to Crypto Discord Servers users on behalf of a new exchange that distributes cryptoassets for free to the "lucky few". Potential victims are encouraged to register on the exchange by providing their personal data and either make a small deposit in cryptocurrency or go through a process reminiscent of KYC.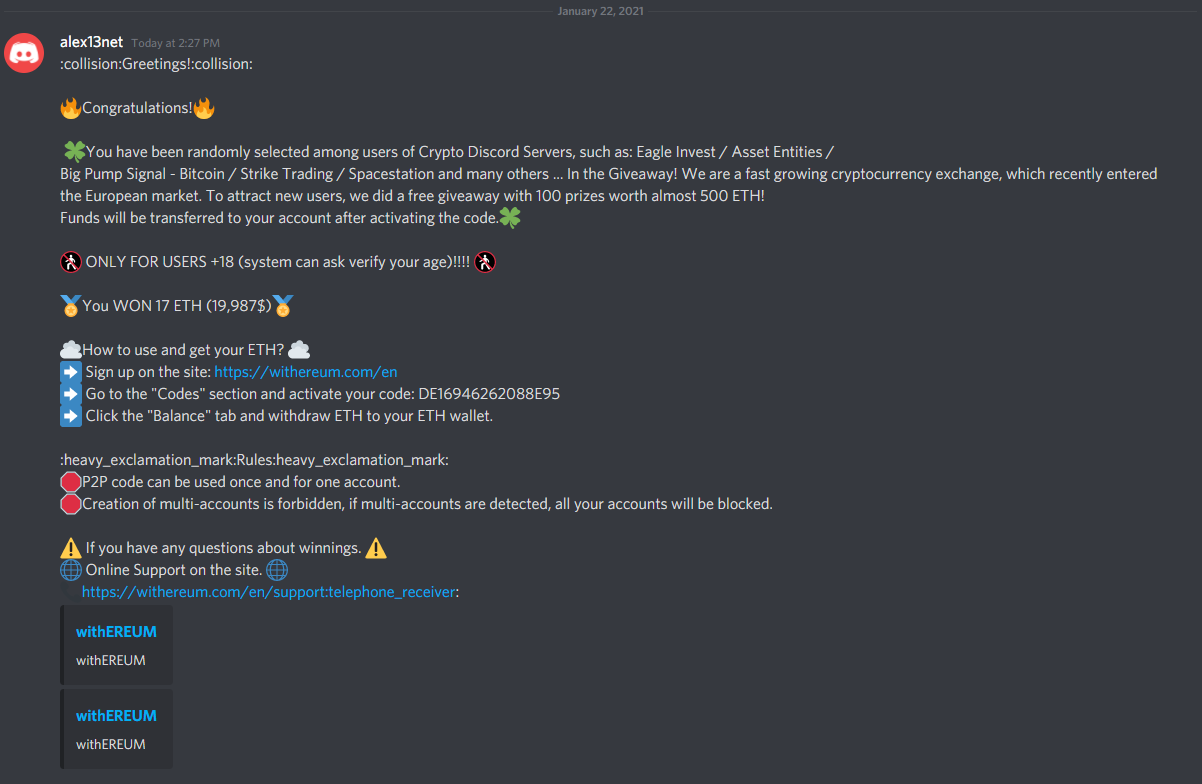 When victims try to claim free cryptocurrency, they are asked to fund their account with a specific amount, for example 0.02 BTC, or the equivalent in ETH or USD. Then, a free cryptocurrency is supposedly credited to the user's account, but it cannot be withdrawn from the platform, as well as the deposit made before.
According to analysts at Kaspersky Lab, the constantly changing name of the exchange (one of the names is withEREUM) looks quite convincing and misleads users well due to the tools typical of real exchanges, for example, two-factor authentication.
According to the report, in addition to stealing users' cryptocurrencies, fraudsters can collect a database of cryptoasset owners in order to "sell it for a good price on the darknet."
Recall that at the end of last year, cybersecurity experts at Kaspersky Lab predicted an increase in the number of cryptocurrency crimes in 2021 due to the COVID-19 pandemic that harmed national economies.
Think we missed something? Let us know in the comment section below.