Open interest in futures and options on Ethereum has grown 28.6% compared to December. The highest demand for ETH derivatives is on Binance, OKEx, and Huobi.
January 06, 2020 | AtoZ Markets – Open interest in Ethereum derivatives has reached a record high. This is evidenced by the research of the analytical company The Block Research. According to the presented results, in the first week of January, open interest in ETH futures and options increased by 28.6% compared to December 2020.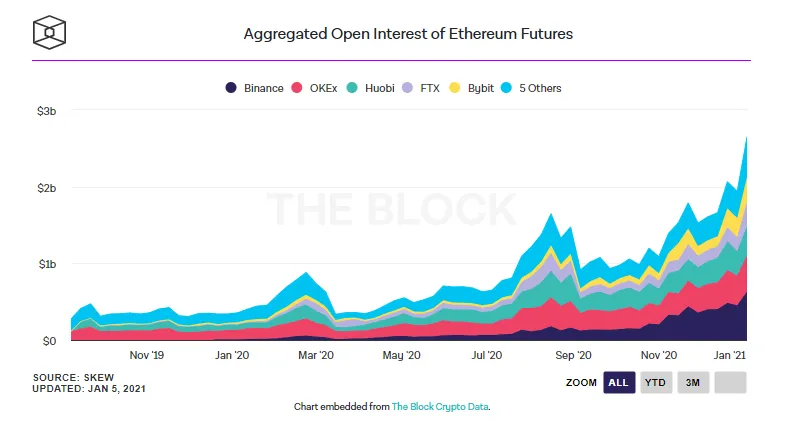 "Ethereum futures peaked at $ 2.65 billion, up 28.6% from their peak in December. Binance remains the market leader with 23.8%, OKEx is in second place with 17.8%, and Huobi is in third place with 14.4%," the study said.
The highest open interest in ETH options was recorded on the Deribit exchange, which accounts for about 86.8% of the market, and the total volume of positions was $ 1.22 billion.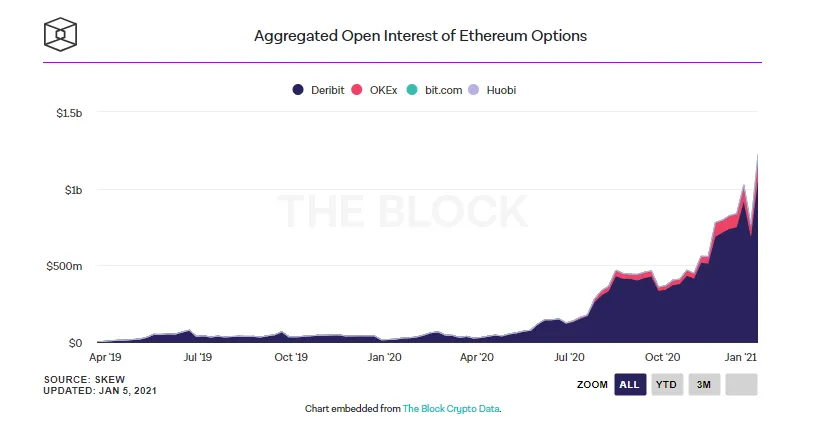 The indicator of open interest in ETH futures and options began to increase immediately after the token price exceeded $ 800. Already at the beginning of this week, the ETH price approached the all-time high of 2018 at  $1432. The market capitalization of ETH has exceeded  $131  billion.
At the time of this writing, the price of ETH/USD is  $1,152.
Ethereum whales accumulate tokens in anticipation of record growth
This behavior of investors was expected. At the end of last year, analysts at the investment company Grayscale announced that new investors will actively invest in ETH tokens.
According to a Grayscale report, 17% of new investments in Ethereum Trust in Q3 2020 came from new institutional investors. The company noted that many large investors entering the cryptocurrency space for the first time need Ethereum, not Bitcoin.
This opinion is also shared by Messari analyst Ryan Watkins, who previously stated that investors would prefer to reinvest the profits from the sale of bitcoin in ETH tokens.
"Forecast for 2021: In 2021, institutions will start investing in ETH. If you've already recognized Bitcoin as a valuable asset, it's easier for you to take the next step and switch from BTC  to  ETH," wrote Watkins.
Since the beginning of the year, ETH investors have managed to transfer more tokens worth more than $22 million.